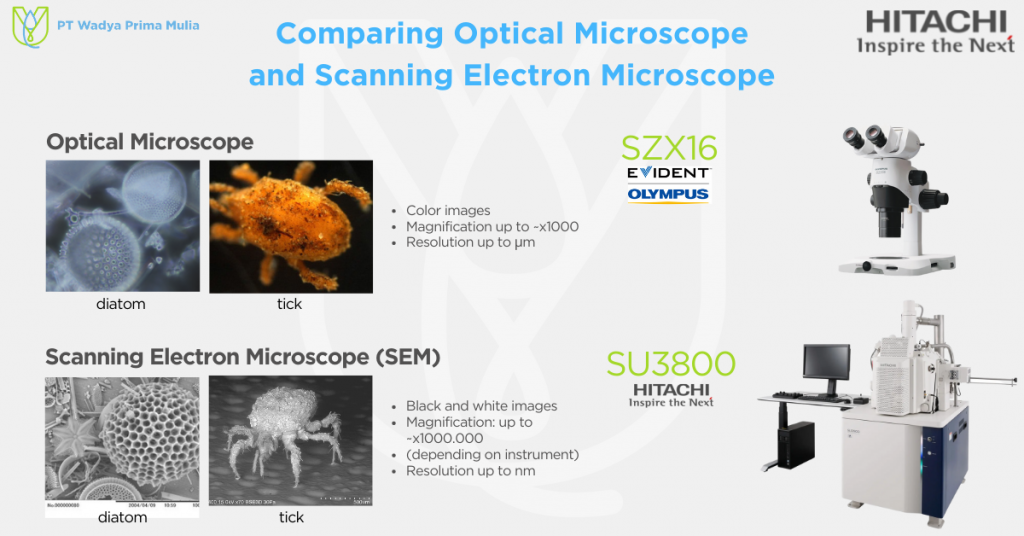 PT Wadya Prima Mulia is an Authorized Distributor for HITACHI's Scanning Electron Microscope and Table Top Microscope, also Ion Sputter and Ion Milling Authorized Distributor for Indonesia Territory
What is a Scanning Electron Microscope?
Let's compare it with Optical Microscope. Optical Microscope uses visible light and a system of lenses to magnify images of small samples. With the example below, the Optical Microscope offers:

– Color images
– Magnification up to ~x1000
– Resolution up to μm

For Scanning Electron Microscope or SEM, it's a type of electron microscopy that produces specimen images by scanning a focused beam of electrons over a sample. With the example below, the Scanning Electron Microscope offers:

– Black and white images
– Magnification: up to ~x1000.000 (depending on instrument)
– Resolution up to nm
For more information about HITACHI products, click here.