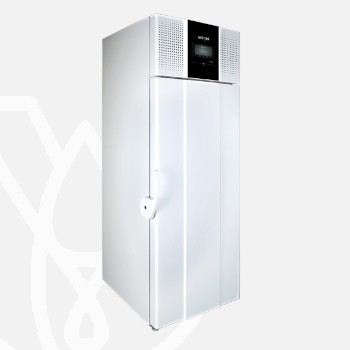 Safe storage practices are fundamental for any laboratory, hospital or pharmacy. Are you working within medicine, the life sciences, or with plastics, food or electronic components? Arctiko's ultra low temperature freezers are very versatile and can be used for both biological and biotech storage with a special focus on long-term storage
-90°C ULTRA LOW TEMPERATURE FREEZERS WITH TRUE DUAL™ TECHNOLOGY
Our ultra low freezers consist of different cabinet models with a capacity from 381L to 815L. Most models include noise reduction technology, vacuum insulated panels and our trusted and safe TRUE DUAL™ technology (in upright models).
The new V700/V500 ARCTIKO controller offers an integrated data logging system with memory for 20 years, different interfaces and several alarms. This ensures that your requirements for documentation and safety regulations are satisfied.
TRUE DUAL™ TECHNOLOGY PROTECTS YOUR SAMPLES
Our TRUE DUAL™ technology is an extra layer of security because we understand that storing samples is important and that each sample is priceless. To keep your samples safe and to protect the hard work put into the samples, we designed the TRUE DUAL™ technology. This technology consists of two independent cooling cycles based on the single compressor system. In the unlikely event of an error or breakdown of one of the cycles, the other system will serve as backup. This guarantees that your samples will be protected and kept at least at -70 °C at all times. In short, our TRUE DUAL™ technology is the safest choice when keeping your samples safe.
ULTRA LOW TEMPERATURE FREEZER WITH ECO MODE AND NORMAL MODE
To keep the cost of ownership down, the Integraline range of freezers (which consist of Integraline upright and Intgeraline compact) can be set to ECO mode and NORMAL mode. The ECO mode is designed for reducing energy consumption while maintaining optimum uniformity of the stored material. This feature will keep the costs of your project, as well as the overall costs of your facility, down without compromising on the freezers reliability and your samples safety"
DO YOU NEED A CRYOGENIC FREEZER INSTEAD?
Do you need to cool your samples further? Arctiko is your true cooling specialist and, being a manufacturer of the ultra low temperature freezer, we also offer a wide range of products including cryogenic freezers that cool down to -150 °C. In case you need refrigerators, we also provide a selection of blood bank refrigerators and pharmaceutical refrigerators.