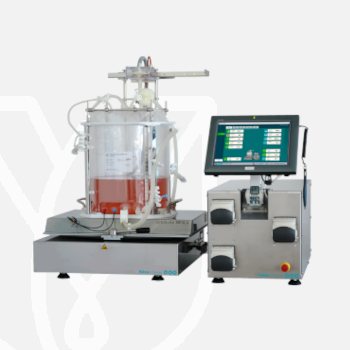 HIGH QUALITY & INNOVATIVE TECHNOLOGY
Kuhner shakers stand for high quality and innovative technology. Besides our renowned bench top shakers and incubator shakers, we also manufacture orbitally shaken bioreactor systems in four different sizes – for a smooth and efficient scale up from lab scale to production scale. Our orbitally shaken bioreactors are ideally suited for the cultivation of mammalian and human cell cultures as well as insect and plant cells. The shaken bioreactors are applicable in research, process development and production.
The orbitally shaken bioreactor systems use the unique Kuhner direct drive, which is characterized by its efficient and reliable performance and low energy consumption. The orbital shaking motion ensures excellent mixing times, adequately high kLa values and low shear stress. The shaking motion provides a large gas transfer area due to the slope angle of the bulk liquid and particularly due to the liquid film following the bulk liquid. The bubble-free surface gassing with almost no frothing significantly reduces the mechanical stress of the cultivated cells.
The cylindrical vessels accept single-use 3D bags enabling quick set up times. Pre-calibrated sensors and gamma-sterilized disposable bags eliminate the need for elaborate calibration, cleaning, and sterilising procedures.
The disposable bags contain all essential ports to allow for automated cultivation processes. Depending on the bag type, also online measurement and control of pH and DO (via built-in chemo-optical sensors) as well as ATF and TFF perfusion processes can be performed.