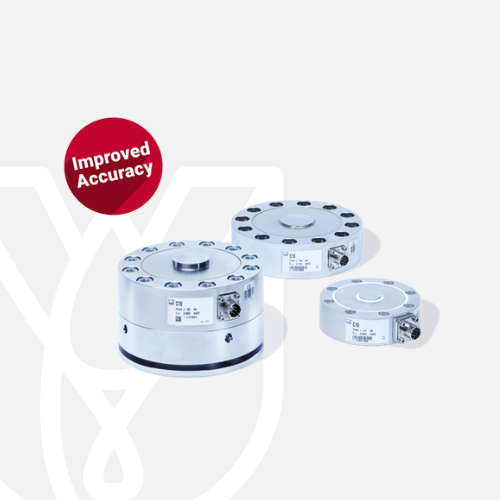 Precise, Robust and Easily Adaptable
With minimal measurement uncertainty and maximum flexibility. Ideal for demanding test bench, laboratory, and production applications.
C10 Compressive Force Sensor: Maximum Precision with Outstanding Flexibility
C10 sensors are radially symmetrical compression force transducers based on special strain gauges that compensate the temperature dependence of the Young's modulus of the measuring body. Hence, compensation elements for the temperature coefficient of sensitivity (TKC) – a necessity for conventional force sensors – can be omitted in the C10 without any loss of accuracy. The gauges are more sensitive than standard gauges and produce more than 4mV/V rated output for all steel versions of the sensor. The C10 series is a benchmark in accuracy, made from rust-free materials, and various configuration options are available for current market prices.
HBM accuracy class: 0.02… 0.05
Capacities: 2.5 kN to 1 MN
---
Improved precision
Technical improvements (product facelift in 2020)*
TC0 of only 75 ppm/10K
Minimal non-linearity, small hysteresis and excellent repeatability (0.025%)
High output signal of greater than 4 mV/V (from 25 kN capacity)
High resolution through high amplifier level
Economical: accuracy in a wide measurement range reduces the required number of sensors and the number of rejects in production.
Adaptable usage
Made of rust-free material
IP68 degree of protection (with cable option)
Not affected by lateral force and eccentric load application
Vibration resistant
EMC approved
Reliable under harsh environmental conditions, even with electromagnetic fields.
Flexible configuration
Flexible configuration options
Over 2500 combinations available at short delivery times
Different connector and cable options, TEDS, double-bridge versions available, etc.
Accessories available separately: thrust pieces, connection cables, calibration services
Sensors can be matched to the measurement task; plug and play solutions save time and reduce likelihood of installation errors.
For more information about this product click here.