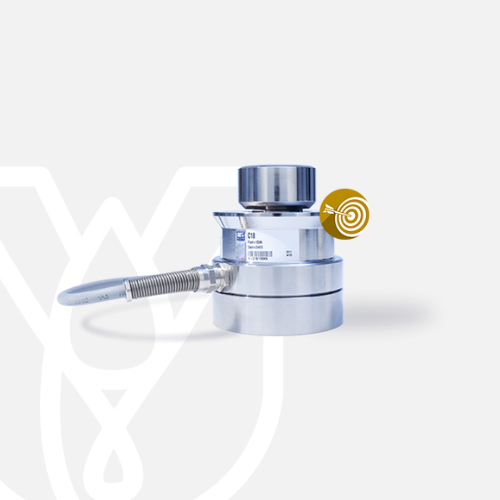 Dependable, Cost-Effective, and Precise – Also available for Large Compressive Forces
The C18 reference transducer is well-suited for use as a transfer device or as a reference sensor in calibration machines. 5 MN versions are also available for extremely large forces.
C18 Reference Force Transducer: Transfer Devices for Large Compressive Forces
The C18 reference force transducer measures compressive force based on the ring torsion principle and is, therefore, particularly insensitive to temperature gradients, lateral force and bending moment. As far as capacity is concerned, the transducer is small and light-weight, and therefore, easy to transport and install in different locations. Its hermetically sealed stainless steel design, with an IP68 degree of protection, ensures a robust performance and long-term stability.
The C18 series covers capacities ranging from 10 kN to as high as 5 MN. Besides, it meets the requirements of a transfer device for traceability of a force measurement machine to a standard. The transducer is also well-suited for use as a working sensor in calibration machines or as a working standard in companies that need to ensure dependable traceability of measuring equipment. The C18 is used in many national metrology institutes and is also well-suited to mobile applications as well as in the extremely precise determination of the center of gravity, for example, of an aircraft.
A C18 transducer is always calibrated, and comes complete with a mounting base and thrust piece. No additional load application parts are required. Overall, the C18 provides users with an extremely cost-effective solution.
Accuracy class (ISO376): 0.5
HBM accuracy class: 0.02
Capacity: 10 kN to 5 MN
---
Meets ISO376 Requirements
Meets the requirements of ISO376 Class 0.5 in terms of measurement accuracy
Insensitive to bending moment; low influence of temperature gradients due to ring torsion principle
Wide measuring range for calibration tasks, ranging from 2 kN to 5 MN
Calibrated force application parts, complete with mounting base and thrust piece

Precise measurement results with large capacities, excellent price/performance ratio
Tested Robustness
Extremely robust, IP68 degree of protection – unusual for this accuracy class. Test conditions: 100 hours, 3 m water column
HBM's commitment: Every transducer is tested in HBM's in-house EMC laboratory, and has a CE conformity marking
Robust cable with kink protection
Stainless steel design
Available for delivery as a 5 MN sensor

High reliability, even in harsh environments, due to its extremely robust design
Easy Mobile Use
Small diameter, compact design and light weight; based on ring torsion principle (relative to capacity)
User-friendly: For large capacities, the mounting base and the sensor can be separately installed
Laser markings allow for easy alignment of mounting base and force transducer; optimal repeatability is guaranteed.
Plug assembly on request
Highly attractive: C18 combined with the QuantumX MX430B and QuantumX MX238B high-precision measuring amplifiers – calibrated as a measurement chain on request

Suitable for mobile use, light-weight and compact dimensions
For more information about this product click here.