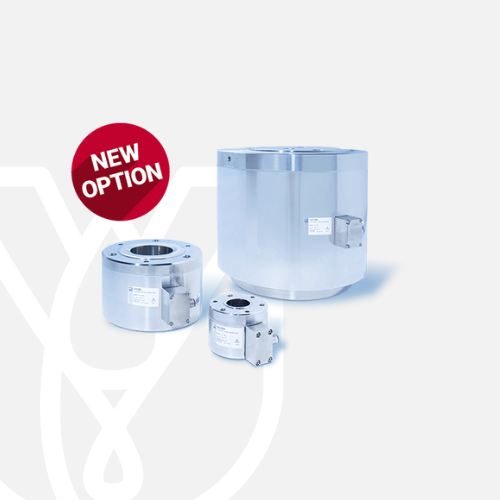 Large Forces, Low Costs
The C6B is ideal for use in the harsh environments often found in the construction, heavy and metalworking industries as well as dynamic measurement tasks in research and development.
C6B Force Transducer: For Nominal Forces Ranging from 200 kN to 10 MN
The C6B force transducers are based on compression bars, a design that is well suited for very large forces and stands for small displacements – ideal for highly dynamic measurements, for example, in impact tests or fast joining processes.
The C6B series is characterized by its excellent price-to-performance ratio, which is especially true for the variants with integrated electronics. The sensors are completely made of stainless steel, hermetically sealed, and have a high degree of protection (IP68). An extensive range of options allows for adaptation to the measurement task at hand. The versions up to 2 MN have an internal bore. This has proven particularly useful in anchor or rope tension monitoring.
HBM accuracy class: 0.5
Nominal (rated) measurement ranges: 200 kN to 10 MN
Outputs: 2 mV/V, 0… 10 V, or 4… 20 mA, as required
Degree of protection: up to IP68
Our tips:
Order the C6B complete with its force applications parts. In this case, the sensor and the force application parts are calibrated together. Benefit from increased accuracy in your application!
New: Now also available with an integrated amplifier. Benefit from efficiency, absolute reliability, and easy setup!
---
Cost-effective measurement of large forces
Nominal (rated) forces up to 10 MN
For static and dynamic measurements
Exceptionally attractive price-to-performance ratio
An internal bore facilitates the use of a fold-back arm (up to 2 MN)

Cost-effective, easy-to-use measurement equipment for many applications.
Adaptable to your application
Output signal: mV/V, 0 – 10 V, or 4 – 20 mA
Many options: fixed cable, mounted plugs, robust plug protection, and TEDS
Can be mounted both horizontally and over head
Complete calibration with loading fittings is possible on request

Efficient: adaptable to the application and instantly ready for use.
Robust and dynamic
Hermetically sealed housing made of stainless steel materials
IP68 degree of protection (models with a fixed cable)
EMC-tested in compliance with the IEC standard
Tested for vibration and shock resistance

Long-life technology and reliable measurement results.
---

Now available as an option: C6B with an integrated amplifier
It's your choice: you can now order the C6B with an integrated amplifier. VA1 with voltage output (0 –10 V) or VA2 with current output (4 – 20 mA). Neither the sensor's dynamics nor its metrological properties change!
The amplifier is matched to the sensor. This offers the following advantages:
Easy integration
Same electrical connection: All HBK force sensors come along with an M12 plug, pinning is the same for all models.
Fast
With a bandwidth of 2 kHz, the amplifiers are also ideally suited for fast processes.
Reliable
The active sensor meets the same stringent requirements for shock and vibration resistance as the version without an amplifier.
Ambient
conditions
The amplifier is robust in all fields of application and is optimally suitable for industrial applications due to its IP67 degree of protection and the use of exclusively stainless materials. Versions with M12 connectors offer the same degree of protection.
Calibration
The amplifier converts the force signal (N) into a current or voltage signal (mA or V). Calibration certificates, in compliance with DKD R3-3 or ISO376, are also available for the sensors with a measurement amplifier.
Accuracy
Both versions, with and without an integrated amplifier, have the same accuracy class.
For more information about this product click here.