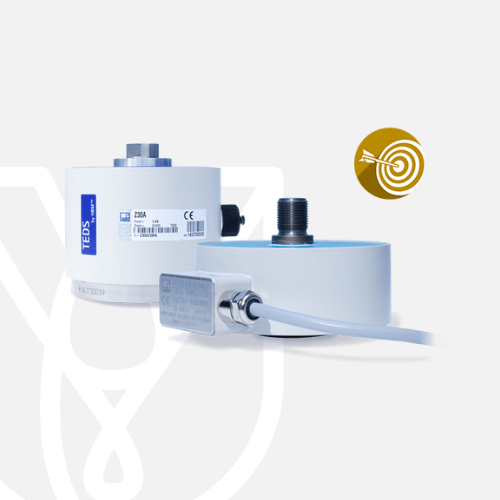 Force Measurement Close to the Physical Limit
TOP sensors from HBM are used when standard reference sensors reach their limits and fail in calibration tasks and reference measurements.
TOP Transfer Reference Force Transducer: Transfer Standards for Comparison Measurements
The TOP Transfer sensors measure tensile and compressive force up to 500 kN and provide an accuracy close to the physical limit. They can be used in international inter-laboratory comparisons, top-level comparison measurements, and exceptionally precise test equipment.
HBM experts take special sensors of the Z30A and Z4A type series from the current production and subject them to extensive testing to ensure TOP Transfer series' high quality. Only sensors that meet the high technical requirements of the TOP series are approved as TOP Transfer. Therefore, TOP Transfer reference force transducers exceed the requirements of the highest accuracy class (00) specified in ISO 376, partially by a factor of up to 10 and offer outstanding repeatability.
Accuracy class (ISO376): 00
HBM accuracy class: 0.015
Capacity: 100 N to 500 kN
---
Highest accuracy level
Exceptionally high measurement quality, due to select TOP Transfer force transducers and technical properties close to the physical limit
Accuracy exceeds the requirements of Class 00 specified in ISO 376 for tensile and compressive force, partially by a factor of up to 10
Guaranteed minimum measurement uncertainty of comparison measurements in your calibration machine
Very well suited for international comparison measurements

Meets exceptionally high precision requirements, due to select high quality and strict monitoring
High-precision measurement chain
Availability of ISO 376-compliant accessories that meet practical requirements; knuckle eyes and load application parts (tensile load application and thrust pieces)
Ideal combination of sensor and data acquisition using the DMP41 precision measuring instrument
Measurement chain provides outstanding precision, when transducer, amplifier, and fittings are calibrated together, as recommended

Consistently high quality of measurement results, due to high-level calibration of the measurement chain as a whole
Future-proof investment
HBM guarantees consistently high quality of all TOP Transfer sensors
Dependable EMC tests in HBM's in-house EMC laboratory

Long-term investment security that ensures highly precise measurement results over decades
For more information about this product click here.