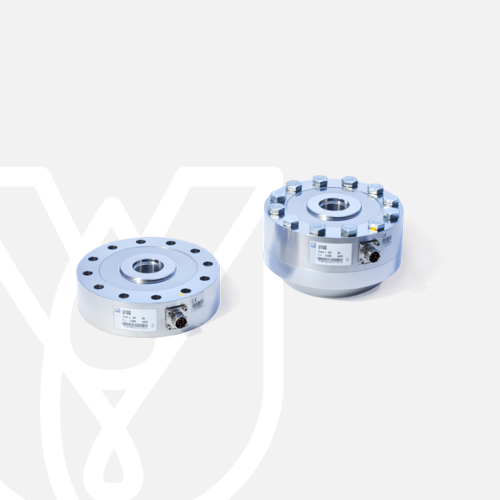 Precise, Robust and Easily Adaptable
The U10 (U10M, U10S) force transducer is ideally suited for test bench applications and challenging tasks in production
U10 Force Transducer: Capacities from 1.25 kN to 2.5 MN
The rotationally symmetric, low-profile U10 force sensor has multiple uses focusing on applications in test benches, material testing machines, and challenging tasks in production. Tensile and compressive forces can be measured.
HBM accuracy class: 0.02 to 0.05
Capacities: 1.25 kN to 2.5 MN
---
Precise
Benchmark precision
TCzero of 150 ppm/10 K or 75 ppm/10 K with 200% calibration
Minimal linearity deviation and hysteresis and very good repeatability
Large measuring range in compliance with specified accuracy requirements, improved yield in product tests through small error bands.
Robust
Made from rust-proof materials, degree of protection IP68 (with cable option)
Electrical bending moment compensation: Bending (for example resulting from applied lateral forces) does not impact the measurement result
Fit for fatigue tests, peak to peak load of 200% of nominal force can be applied
Vibration resistant
EMC approved
Reliability even in unfavorable measurement conditions (e.g. temperature gradients, parasitic mechanical influences).
Adaptable to your needs
U10 optimally adapts to its measurement task: Over 5,000 combinations are available
Select from many options such as TEDS, flange or foot adapter version, 100% or 200% calibration, load introduction pin, several connectors and cable options and more
Time saving plug-and-play solutions, easy adaption.
For more information about this product click here.