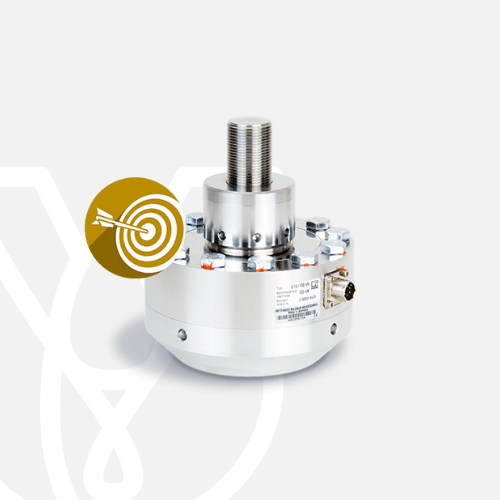 Combining Technology with Experience
The amazingly cost-effective U15 force transducer is ideally suited for use both as a transfer standard and as a reference sensor in calibration machines. The U15 reference transducer is the perfect choice for demanding test benches requiring minimal displacements combined with high accuracy and a high output signal.
U15 Precision Load Cell: Calibrating Forces from 2.5 kN to 2.5 MN
The U15 precision load cell (reference force transducer) reliably measures tensile and compressive force up to 2.5 MN. It is ideally suited for use as the master sensor in calibration machines, for challenging tasks in test benches, and as a transfer standard (e.g. when verifying or calibrating material testing machines or taking transfer measurements to ensure traceability of calibration machines to a standard).
As the transducer is showing vey low displacement, the geometry of the test stand is also stable under load. The U15 precision load cell's high resolution, excellent signal-to-noise ratio and low measurement uncertainty are based on the transducer's high output signal (>4 mV/V from 25 kN). This allows for optimal utilization of the subsequent electronics' measuring range.
U15 meets the requirements of class 0.5 in accordance with ISO 376. Its radially symmetrical design makes the sensor insensitive to temperature gradients. The U15 precision load cell is very robust due to its high IP67 degree of protection and the use of stainless steel materials.
Accuracy class (per ISO 376:2011): 0.5 in the range of 10% and 100% of the nominal load
HBM accuracy class: 0.02 to 0.05
Capacities: 2.5 kN to 2.5 MN
---

Now available: U15 with improved technical data
Improved technical data for many key values (creep, TK0, hysteresis)
Extended measurement range: Meets the requirement of class 0.5 according to ISO376 from 10%
Now also available as a tension/compression reference transducer with maximum capacity of up to 2.5 MN
---
High accuracy class
Complies with the requirements of accuracy class 0.5 per ISO 376 in the range between 10% and 100% of its capacity
High output signal, > 4 mV/V for many capacities
Signal adjustment to 3 mV/V available as an option
Excellent signal-to-noise ratio
Good repeatability in varying mounting positions through electronic bending moment compensation
Transfer standard for tensile and compressive force up to 1 MN

Standard-compliant precision, also under unfavorable conditions of use. Absolute reliability.
Individual configuration
Double bridge version available on request: One output can be used as a reference signal, one output as an input for the machine control (also for machines with high forces and loads).
Application-oriented accessories such as TEDS, ISO 376-compliant load application and knuckle eyes
HBM enables the U15 together with the amplifier to be calibrated as a measurement chain (competence of the HBM calibration laboratory)
Option: Delivery as a calibrated product (calibration through HBM's ISO 17025-accredited calibration laboratory)

Optimal complete solution including calibrated accessories for reliable transfer measurement
Small displacement
Small displacement
As a result: High stiffness and excellent dynamic behavior
High resonance frequency for dynamic calibration tasks
Robust due to IP67 degree of protection and hermetic sealing resulting in outstanding long-term stability
Small TKZero and low sensitivity to temperature gradients

Measurement accuracy, even in dynamic or harsh conditions. Minimal displacements.
For more information about this product click here.